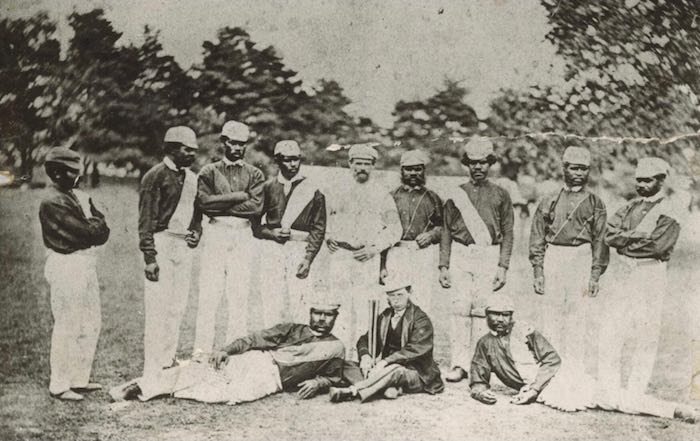 Written by RAHS Volunteer Maximilian Reid.
This blog is part of a monthly series that will chart episodes of cricketing history to demonstrate how the arcs of societal change and cricket intersect.
The creation of cricket, a sport for the landed English gentry, has been levelled and is now played and enjoyed by all. It was certainly not intended this way and the arcs by which societal change and cricket intersect is neither simple nor easy. Cricket, despite being traditionally a conservative exercise both stylistically and founding membership has transformed into a proactive agent of change not despite its moral dimensions but because of them. National narratives, the lives and memories of millions have been shaped by this game so it is important to analyse how this unfolded throughout our Australian history.
The first reference to cricket in Australia comes in 8th of January 1804 in the Sydney Gazette noting the fair weather and the suitability to playing of cricket [1]. This gentle tone speaks of a cultural pastime enjoyed and played under the 'sun' of the British Empire- a Pax Britannia in glacial cadence with a Test Match. Upon the exporting of cultural values, economic and political systems via musket and trade embargoes hereafter referred to as the British Empire, cricket became its soft power exercise. The 'Starbucks' of Empire. In 1880 Lord Harris, cricketer and colonial administrator of Bombay put it succinctly:
"The game of cricket has done more to draw the Mother Country and the Colonies together than years of beneficial legislation could have done"[2].
With the presentation of empire and cricket as a package, it is tempting to assume some homogeneity. However, despite its universal laws, cricket's translation to different national contexts and its administration was far from homogeneous. Sports sociologist Dominic Malcolm suggests that initially in Australia our relationship between empire and cricket was highly deferential- demonstrative of an imperial nationalism[3]. One striking example of this was in Melbourne on New Year's Day in 1862. The first balloon flight in Australia flew on this day and carried the entire English team over the Melbourne Cricket Ground. To accentuate this imperial homage the balloon itself displayed a large portrait of Queen Victoria[4]. This grandiose and highly public display of imperial nationalism may invite at least a mainstream homogeneity but there are two clear instances where this mainstream was bucked against. Whilst both occurred parallel to one another, they both demonstrated for both good and ill something of an emerging national character.
The first was the famous tour of England by a cricket team comprised of First Nations people in 1868.
1868 – Tests, Matches and Triumph
Champions
This iconic tour draws much attention, from the play Black Cockatoo to Ashely Mallett's Black Lords of Summer, because of the context of this series and the consequences following 1868.
The team itself was drawn mostly from men across the Wimmera region of Victoria. This included the language groups of Djab Wurrung and Jardwadjali and the Madimadi and Wutjubaluk peoples. Whilst captained in England by a white man, Charles Lawrence, this team included stars like Jungunjinauke, Brimbunyah and of course Unaarrimin. The respective Anglicisation of their names into 'Dick-a-Dick', 'King Cole' and 'Johnny Mullagh' represents the prevailing societal attitude regarding these proud men as 'quaint'. This racially charged 'quaintness' continued during the tour in England. For instance, their post-match entertainment included mock battles in fabricated costumes and athletic competition [5]. Yet Ashley Mallett suggests that in the face of this, these First Nations' cricketers saw in the game what they could not see within mainstream Australian and English society – integrity and honour[6]. At a local level, on the cattle stations and the missions by which many First Nations people were introduced to cricket there seemed to be a guarded acceptance. White pastoralists on Australian cattle stations believed that cricket was a 'civilising experience' [7]. At the official level the response was far different.
The Central Board of Protection of Aborigines did not view the agency afforded by the 1868 Test Team with any positive feeling. Whilst they were unable to prevent the tour they gained the statutory power to do so by the passing of the Aboriginal Protection Act in 1869 [8].
This Act, which controlled residency, marriage, employment and the education of children laid the groundwork for the later Aborigines Act of 1886. It was this Act that was the first legal means by which to remove First Nations children.
Absence, Integrity and Discourse
A Blueprint
What then to make of the Test Team of 1868? In truth there are those with greater skill, understanding and cultural standing to make conclusions about this historic event and its place in our national discourse.
What is clear is that the integrity of this team shone through cricket's moral dimensions despite the structural and personal racism. Their integrity to challenge the perceptions held by others and to perform to such athletic distinction through such an imperial exercise as cricket truly makes them champions. This brief episode of cricket history intends to open wider discourse on Indigenous representation in cricket and how they are perceived in sport generally.
The article, "Indigenous Participation in Australian Sport; the Perils of the 'Panacea' Proposition" is a highly recommended starting point.
---
References:
[1] 1804 'SYDNEY.' The Sydney Gazette and New South Wales Advertiser (NSW; 1803 – 1842), 8 January, p2, viewed 06 Jan 2020, http://nla.gov.au/nla.news-article625962
[2] Dominic Malcolm, Globalizing Cricket: Englishness, Empire and Identity (Bloomsbury Publishing, 2014),
[3] Malcom, Globalising Cricket, 58
[4] Jack Pollard, The Complete Illustrated History of Australian Cricket (Ringwood Victoria: Viking , 1992), 8
[5] Geoffrey Atherden "Johnny Mullah Was one of Australia's first cricketing heroes;his story deserves wide recognition" The Guardian, 27th December 2019, https://www.theguardian.com/stage/2019/dec/27/johnny-mullagh-was-one-of-australias-first-cricketing-heroes-his-story-deserves-wider-recognition
[6] Ashley Mallett, The Black Lords of Summer-The Story of the 1868 Aboriginal Tour of England and Beyond (University of Queensland Press, 2002), 8
[7] John Robert Evans, Rachel Wilson, Bronwen Dalton, Steve Georgakis "Indigenous Participation in Australian Sport: The Perils of the 'Panacea' Proposition" Cosmopolitan Civil Societies: An Interdisciplinary Journal, 7, no.1 (2015), 67
[8] Mallett, Black Lords of Summer, 26