Written by Elizabeth Heffernan, RAHS Volunteer
To celebrate Women's History Month, the Royal Australian Historical Society will highlight Australian women that have contributed to our history in various and meaningful ways. You can browse the women featured on our new webpage, Women's History Month.
When remembering the sacrifices made by Anzac soldiers in the World Wars, it is important to recognise the Australian servicewomen who stood alongside them. Lieutenant Colonel Vivian Bullwinkel was a veteran of the Second World War, and her inspiring story of struggle and survival as a frontline nurse and prisoner of war should not be forgotten.
Born in Kapunda, South Australia, in 1915, Vivian completed her General Nursing at the age of 23 at Broken Hill and District Hospital, followed by Midwifery one year later. [1] Vivian relocated to Victoria to commence her nursing career in Hamilton, before moving to Melbourne in 1940 to aid in the war effort. Having volunteered for the Australian Army Nursing Service (AANS) in May 1941, Vivian set sail for Singapore soon after to join the 2/13th Australian General Hospital.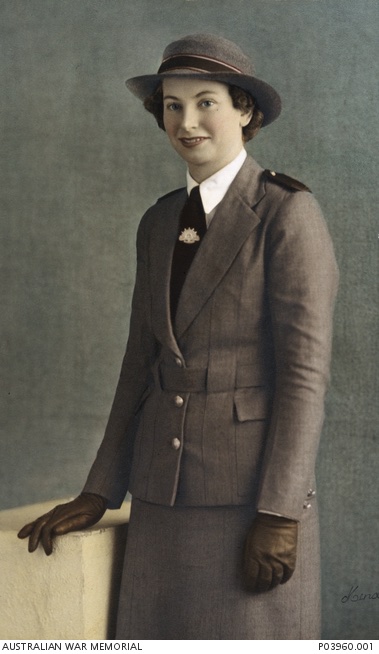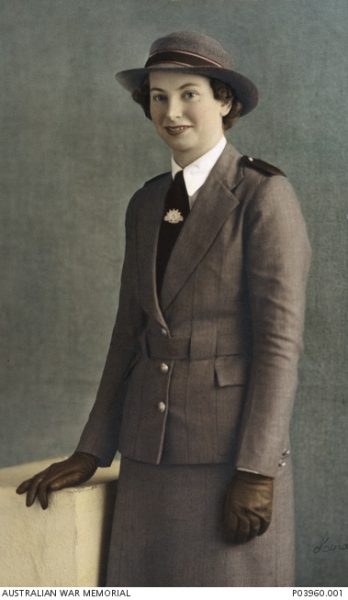 Arriving in Singapore in September, Vivian and her fellow nurses were confronted with a poorly equipped hospital unable to deal with the surgical cases required. [2] The situation only worsened when Japanese troops invaded Malaya in December and quickly advanced south, forcing the Australians to evacuate the islands from January 1942.
Vivian was among the last 65 nurses to be evacuated. Along with 265 men, women, and children from the island, these nurses boarded the final ship to depart Singapore, the SS Vyner Brooke, a vessel originally built to carry twelve passengers. [3] Two days into their retreat, the ship was bombed and 22 of the nurses made it to shore to surrender to the Japanese. Ordered to wade into the ocean, the nurses were machine-gunned from behind in what is today remembered as the Banka Island massacre. Struck by a bullet that passed right through her body, Vivian feigned death until the attackers departed. She was the only survivor. [4]
After twelve days of hiding from the Japanese, Vivian surrendered once again and became a prisoner of war for the next three and a half years. Her determination to bear witness to the massacre, to ensure its victims were not forgotten by history, helped her to survive the brutality of the camp.
Perhaps the most remarkable aspect of Vivian's lifetime is her return to nursing even after her experiences in the war. She continued to serve in Japan until 1947 when she resigned as Captain, but re-joined the Citizen Military Forces in 1955 until 1970, when she retired for good as Lieutenant Colonel. Among her accolades were the Florence Nightingale and Royal Red Cross Medals, and her appointments as Member of the Order of the British Empire (MBE) in 1973 and to the Order of Australia (AO) in 1993. [5]
Vivian's civilian life was just as important as her wartime achievements. She spent sixteen years as Matron at Melbourne's Fairfield Hospital and continued there as Director of Nursing until 1977, when she married and moved to Perth. An active member of the Council of the Australian War Memorial, and president of the Australian College of Nursing for a number of years, Vivian returned to Banka Island in 1992 to unveil a shrine to the nurses who died there. [6]
Her perseverance during her lifetime is perhaps most poignantly understood through the words of Irene Drummond, Vivian's own Matron and one of the 21 nurses killed on the beach of Banka Island. When wading into the surf, confronted with the certainty of what was about to happen, Irene told her nurses: "Chin up, girls! I'm proud of you and I love you all." [7]
---
References:
[1] Zoe Hughes, 'The Story of Vivian Bullwinkel – From Massacre to Legacy', Ausmed, 29 March 2017, accessed 18 March 2019.
[2] Hughes, 'The Story of Vivian Bullwinkel'.
[3] Hughes, 'The Story of Vivian Bullwinkel'.
[4] Cory Zanoni, '8 women from Australia's history you should know', State Library of Victoria, 8 March 2017, <https://blogs.slv.vic.gov.au/our-stories/8-women-from-australias-history-you-should-know/>, accessed 18 March 2019.
[5] Anna Haywood and Barbara Lemon, 'Bullwinkel, Vivian', The Australian Women's Register, last modified 12 September 2017, <http://www.womenaustralia.info/biogs/AWE0362b.htm>, accessed 18 March 2019.
[6] 'Lieutenant Colonoal Vivian Bullwinkel', The Australian War Memorial, <https://www.awm.gov.au/collection/P10676383>, accessed 18 March 2019.
[7] 'Stoic nurses stared down an atrocious death', Sydney Morning Herald, 25 April 2012, <https://www.smh.com.au/national/stoic-nurses-stared-down-an-atrocious-death-20120424-1xjhb.html>, accessed 18 March 2019.