Nominations are now open for the 2023 RAHS Certificates of Achievement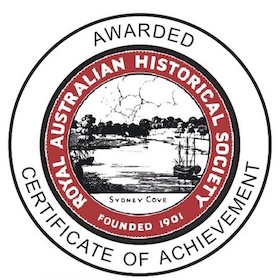 RAHS Affiliated Societies are crucial in promoting local and community history throughout New South Wales. Has one of your members made an outstanding contribution to your historical society? Why not consider nominating them for the Certificate of Achievement award?
The Certificates of Achievement recognise members of societies whose contribution is significant and noteworthy. In 2022, we awarded thirteen Certificates of Achievement, which recognised contributions in publications; research; organising events; managing archival and museum collections; managing finances; and coordinating online initiatives.
You can read about past recipients on the 2023 RAHS Conference website.
This year the Certificates will be presented at the 2023 RAHS Conference in Wagga Wagga, our first face-to-face Conference since 2019. Award recipients will also be published in the December 2023 edition of History magazine.
All nominations must be in writing and show one or more of the following:
Comprehensive evidence of achievement
Quality of service
Significant support (financial or benefit-in-kind).
Candidates for the award must be nominated by a member of an affiliated society and be approved by either a general meeting, an executive meeting or a specially convened subcommittee. The presiding President and Secretary (or other appropriate office bearer) must also sign the nomination.
The deadline for nominations is 22 September 2023.
Nominations should be emailed to admin@rahs.org.au. Successful applicants will be notified before the Conference so that arrangements can be made for their presentation.