RAHS Upcoming Events
The Royal Australian Historical Society has an established tradition of delivering a diverse Calendar of Events throughout the year, helping make history accessible to all. This program includes lectures, skills-based workshops, regional seminars, tours and book launches.
The annual RAHS Conference is a highlight of the Society's activities. It provides an opportunity for the RAHS and its Affiliated Societies to network at a conference dedicated to promoting local and community history, showcasing the research of individuals and societies.
RAHS Day Lecture – My Grandfather's Clock: Four Centuries of a British-Australian Family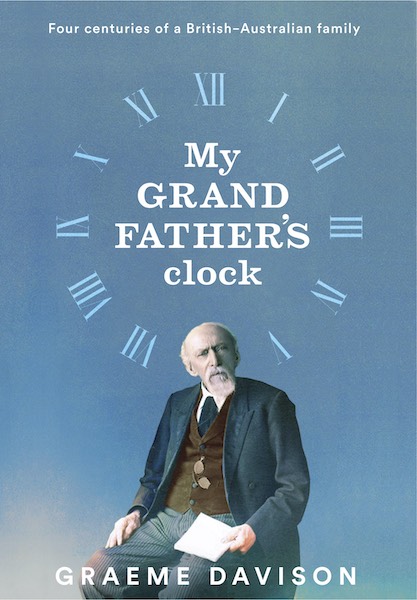 Event Date & Time: Wednesday 6 September 2023 @ 1.00 pm – 2.00 pm
Event Location: Online via Zoom
Cost: Free
CLICK HERE TO BOOK A TICKET
Event Description:
A great-aunt's bequest – a 200-year-old grandfather clock – sends historian Graeme Davison on a journey deep into his father's family's past. From their tribal homeland in the Scottish Borders, he follows them to the garrison town of Carlisle, from industrial Birmingham to Edwardian Australia, and from the Great War to his own suburban childhood. This is the story of an ordinary family's journey from frontier warfare and dispossession through economic turmoil and emigration to modest prosperity. At each step, we are led to reflect on the puzzles of personal identity and the mystery of time. Based on a lifetime of creative scholarship, My Grandfather's Clock is a moving testament to the power of family history to illuminate the present.
About the speaker:
Graeme Davison is Emeritus Sir John Monash Professor of History at Monash University. He has written widely on Australian history, and his publications include The Rise and Fall of Marvellous Melbourne, The Unforgiving Minute: How Australia Learned to Tell the Time, Car Wars: How the Car Won Our Hearts and Conquered our Cities, City Dreamers: The Urban Imagination in Australia and, as editor, The Oxford Companion to Australian History. His previous family history, Lost Relations: Fortunes of My Family in Australia's Golden Age, won a Judges' Special Prize in the Victorian Community History Awards.
RAHS Special Lecture – Garden Design Using Australian Natives: A History
Wednesday 20 September 2023 @ 1 pm – 2 pm Event Date & Time:
Event Location: Online via Zoom
Cost: Free
CLICK HERE TO BOOK A TICKET
Event Description:
Landscape historian Stuart Read will talk on the history of Australian garden design using native plants, including waves of fashions (it didn't just start in the 1960s), players who were influential, and examples of gardens that remain so. You might be surprised how early and how widely natives were used. He'll delve into matters of fashion, treatment and shrinking gardens.
About the speaker:
Stuart Read won a Pratt Foundation / International Specialised Skills Institute overseas fellowship, travelling to Spain in 2005 to study change management in gardens. He has long been involved with the Australian Garden History Society. Trained in horticulture and landscape architecture in New Zealand, he has worked since 1991 on Australian world, national and NSW heritage.
RAHS Day Lecture – The 'Girls' Who Made Australia Laugh
Event Date & Time: Wednesday 4 October 2023 @ 1 pm – 2 pm
Event Location: Online via Zoom
Cost: Free
Event Description:
Hundreds of Australian women graced the popular stage in the late nineteenth and early twentieth centuries. Despite the racism, sexism and other cruelties of vaudeville, it gave them space in which to live unusually public lives, and sometimes to test conventional ideas about how women should behave. Their stories speak to the treatment of women in earlier times. But they also show what is lost to our culture and our history when imported entertainments are permitted to overwhelm local artists and their work.
About the speaker:
A former documentary filmmaker, television producer and chief executive of Film Australia, Sharon Connolly has been involved in making many landmark history programs since her first film, Red Matildas. In her first book, My Giddy Aunt and her sister comedians, she once more writes some remarkable yet uncelebrated women back into the stories of Australia.
RAHS New Members' Evening – Scandals From Our Past
Event Date & Time: Wednesday 11 October 2023 @ 6 pm – 7:30 pm
Event Location: Online via Zoom
Cost: Free
Event Description:
Join us for a New Members' Evening with a difference. We will be presenting a series of short, light-hearted talks on scandals from the past. Prepare to chuckle as we explore the quirky and amusing side of history.
Speakers:
Judith Dunn
Christine Yeats
Sue Tracey
Topics:
The Curious Case of the Amorous Dentist
Eliza Ashton's 'Radical' Views on Marriage
Counterfeit Fivers – WWI
All welcome!
2023 RAHS Conference at Wagga Wagga
15 September 2023
receive a discount on conference fee prices.
Conference Theme: The Way Ahead: Local and Community Histories for our Future
Date: Saturday 21 – Sunday 22 October 2023
Location: Wagga Wagga RSL Club
CLICK HERE TO VISIT THE CONFERENCE WEBSITE
Event Description:
The City of Wagga Wagga is the perfect location to explore the 2023 Conference Theme – The Way Ahead: Local and Community Histories for our Future. Today the people who call Wagga Wagga home reflect its rich and diverse history. The commitment to remembering and honouring this history both now and for future generations can be seen with the launch of the redeveloped Museum of the Riverina Botanic Gardens site. The museum is dedicated to telling stories about the people and events that helped shape the City of Wagga Wagga and the Riverina Region. This commitment to local and community histories includes an outreach program that supports thirty-eight Riverina museum collections.
We are sure you will enjoy the RAHS Conference program and exploring this region's museums and historical sites. The RAHS Conference website includes ideas to make the most of your visit to Wagga Wagga and the Riverina Region.
Delegates who complete their bookings before
Preserving Treasured Legacies: A Workshop on Gathering Family Memories
This workshop is in partnership with WEA Sydney
Event Date & Time: Thursday, 9 November 2023 @ 11.00 am – 1.00 pm
Event Location: Online via Zoom
Cost: RAHS members $32 / Non-members $35
Event Description:
This workshop will guide you through discovering, collecting, and preserving the invaluable stories and experiences of your family's history and heritage. Our speakers will share their knowledge, techniques, and practical tips to help you embark on a fulfilling journey of preserving your family's legacy.
There will be tips on the following:
Conducting meaningful interviews with your family members.
Methods and mediums for documenting and preserving your family memories.
Organising and cataloguing your collected materials, whether physical or digital, to create a cohesive family archive.
Understanding the importance of preserving intangible aspects of your family's culture, such as traditions, recipes, music, and language.
About the speakers:
Pauline Curby is a professional historian who has undertaken consultancies in oral history, environmental history and heritage, as well as writing commissioned histories. Her publications include Seven Miles from Sydney: A history of Manly and Randwick. Pauline won the 2010 NSW Premier's Award (Regional and Community History) and received the NSW History Fellowship in 2011. Pauline's oral history consultancies include: 'Telling it as it was' oral history project (2006-2017) – Sutherland Shire; Recording Ryde's Oral History Project (1997-1999); Australian Customs Service Oral History Project (2001-2002); 'A career in the Australian shipping industry' (2004). Pauline is President of the Sutherland Shire Historical Society.
Heather Garnsey joined the staff of the Society of Australian Genealogists (SAG) in 1984 and was its Executive Officer from 1988 until her retirement at the end of February 2020. Heather is an Honorary Member and Fellow of the Society of Australian Genealogists, an Honorary Fellow of the Heraldry and Genealogy Society of Canberra and was the joint recipient of the AFFHO Award for Meritorious Service to Family History in 2015. She holds a Masters degree in English History and SAG's Diploma in Family Historical Studies. In her retirement, she is enjoying having time to spend on her own family history research.
Christine Yeats is an archivist, historical researcher and active supporter of local historical societies. Her research interests include the history of the Romani (Gypsies) in nineteenth century Australia and attempts to introduce a silk industry into the Australian colonies. Christine has undertaken a range of consultancy projects including significance assessments, biographical and local history research. She is President of the Federation of Australian Historical Society, Senior Vice President of the RAHS and a member of the Professional Historians Association (NSW & ACT). Her recent publication is Handy Guide: Convict Records of NSW: The Human Stories of the Transportation System (2021).