RAHS Home > Abstracts – JRAHS Volume 109 Part 1 June 2023
Abstracts – JRAHS Volume 109 Part 1 June 2023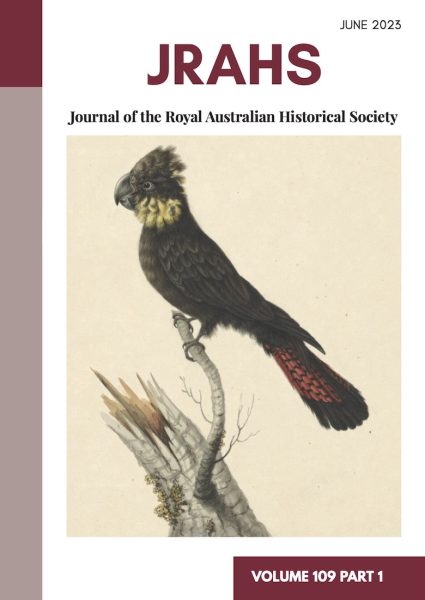 Touching hands with Anzacs: A re-evaluation of 1920s War Service Homes in NSW – Terry Kass
Australians make pilgrimages to Gallipoli for the dawn service and distant battlefields on Anzac Day or Armistice Day to commune with Anzacs. They often ignore evidence directly associated with Anzacs all around us, in capital cities, suburbs and country towns in the form of dwellings constructed by the War Service Homes Commission in the 1920s. This paper aims to provide a more balanced assessment of the work of the Commission than has been the case to date.
Beaumont & Waller's Botanical & Zoological Gardens, at the Sir Joseph Banks Hotel, Botany Bay 1848–61 – Mark St Leon
In 1848, William Beaumont, with the assistance of his business partner, James Waller, began to transform the gardens and grounds surrounding the Sir Joseph Banks Hotel at Botany Bay into a pleasure resort. The resort, named Beaumont & Waller's Botanical and Zoological Gardens, would be quickly established as one of Sydney's favourite public leisure and recreation outlets. This article outlines its origins and development until its demise in 1861 in the context of early Sydney's social and civic developments. The article concludes by identifying the resort's three major legacies.
Ingleside Powder Works: 'a curious colonial enterprise' – Keith Amos
The mysterious past of Ingleside Powder Works has never been fully explained due to conflicting interpretations about the motives of its 1880s designer and superintendent, Carl von Bieren. What brought him to Australia from the USA, and why did the works fail to produce gunpowder? This article contends the works were ostensibly built to produce explosives, but in reality, to facilitate an affluent lifestyle for the man who purported to be 'Carl von Bieren' and his supposed wife, Anna. Evident is a remarkable web of deceit spun by a 19th-century confidence man.
Thomas Wilson Esq and the natural history collections of First Fleet Surgeon John White – Matthew Fishburn
Thomas Wilson Esq, a Londoner, was the driving force behind the publication of three of the most important early Australian books, especially in terms of natural history: First Fleet Surgeon John White's Journal (1790), James Edward Smith's Botany of New Holland (1793) and George Shaw's Zoology of New Holland (1794). Although known to have joined the Linnean Society and employed the artists Sarah Stone and James Sowerby, Wilson has long been an enigmatic figure. This essay discusses the remarkable breadth of White's collections on his behalf. It reveals that Wilson was, in fact, a wealthy apothecary, not only a patron of White but an important supporter of Matthew Flinders, as well as being tangentially connected to two other surgeons associated with New South Wales, John Lowes and George Bass. Wilson was the central figure in an important professional network that was openly competing with the socially grander and far better-recorded coterie of Sir Joseph Banks.